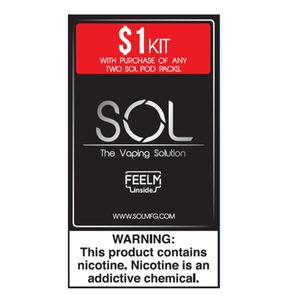 FEELM
Introducing SOL FEELM Device. An exceptionally smooth vaping experience without noise and leakage. Enhanced via FEELM innovative technology.
The SOL FEELM Device was designed to be the ultimate daily vaping solution. SOL features an industry leading 310 mAH 3.7 volt battery that will keep you running all day. Don't worry about hunting down odd chargers since the SOL FEELM features a standard Micro USB port.  The SOL FEELM Device takes SOL FEELM Pods only.

SMOOTH VAPING EXPERIENCE
Through thousands of micropores in the FEELM's Black Ceramic Conductor, every drop of SOL Salt Nicotine efficiently atomized by the Board Metal Film on the ceramic surface. Better and bigger vapor, creating a rich and smooth vaping experience.
NO MORE LEAKS!
The innovative technology with its unique structural design, bowl-shaped, catches the liquid to avoid gravity leakage. Once the liquid meets the bottom of the ceramic coil, it instantly vaporizes by the metal film without causing leakage.
SOL FEELM Vape Device Features:
– Auto-Activation – Just Vape
– FEELM Innovative Technology Coil System
– Aluminium Body
– Compact Design
– USB Charging
– LED Indicator
– Battery: 310mAh / 3.7V
– Low Voltage Protection
– Vaping Over-time Protection
– Magnetic Pod Connection
– Use While Charging
– Dimensions: 91.6mm x 20mm x 10.5mm
– Weight: 16g
– RoHS Compliant
SOL FEELM Device Includes:
(1) SOL FEELM Vape Device
(1) Micro-USB Charging Cable
(1) User Manual
Pods sold separately