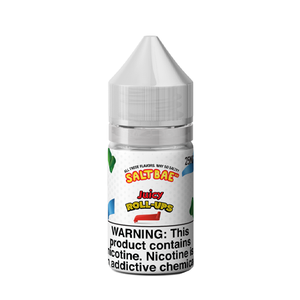 Juicy Roll up 
Jucy Roll Up is one of Salt bae's most recent releases. This remarkable flavor has been an instant success, and is certain to become one of their most popular flavors.
Juicy Roll Ups by SaltBae50 takes sweet summertime strawberries sliced and muddled in a tall refreshing glass of lemonade to unlock the sweet strawberry overtones to mingle with the tangy essence of lemonade for an impeccably zesty vape juice. From inhale to exhale, Juicy Roll Up by SaltBae50 is genuinely delicious.
If you enjoy strawberry lemon lime Gatorade, you absolutely must try this flavour!
Device Compatibility/Recommend:  Portable Devices
Ratio: 50VG/50PG
Flavor profile: Lemonade 
Brand: Salt Bae
Package Includes:
This product is specifically designed for use in pod-based devices and other low output atomizers.