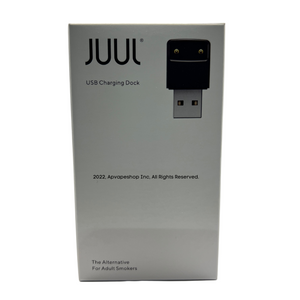 About the JUUL USB Charger
Have you misplaced or damaged the USB charger that your JUUL device came with? Do you just want to have another USB charger to keep in your car, office, or anywhere else that you frequent? If so, then the JUUL USB replacement charger is exactly what you need.
This USB charger is compatible with JUUL devices that come with the JUUL Starter Kit and the JUUL Basic Kit. Whether you're using it as a replacement or as a spare, you'll never have to worry about your JUUL device running out of power. To use it, simply plug the charger into a USB port and place your JUUL device right onto the magnetic charger. You'll be fully charged up in about an hour.
Key Details of the JUUL USB Charger
 Magnetic USB charger that's compatible with JUUL devices
 Magnetic charging device
 Fully charges JUUL devices in about an hour
 No messy cables
 Charge from your Mac, PC, or any USB port